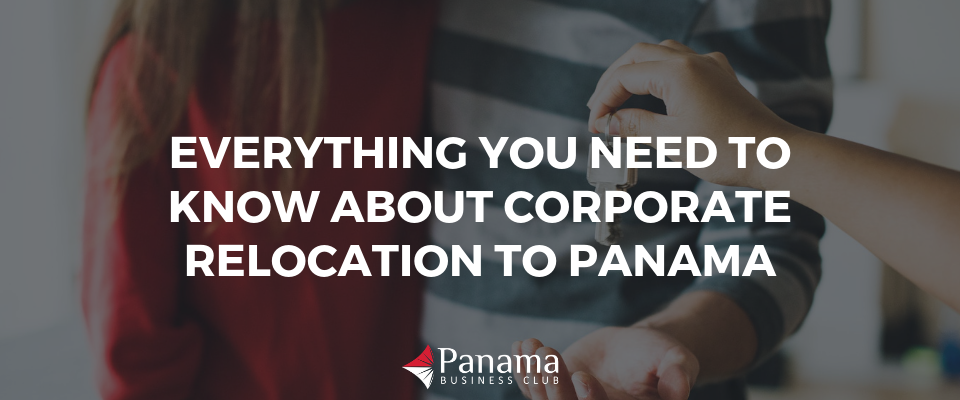 Everything You Need to Know about Corporate Relocation to Panama
November 12, 2018 / Business
As we've discussed in recent articles, Panama is experiencing a corporate renaissance. Some of the world's leading multinationals are moving their regional headquarters to Panama City, taking advantage of the available SEM benefits, which you can read more about here. That said, while Panama is becoming one of the most popular places for corporate relocation in all of Latin America, relocating to a new country can still be difficult – especially for senior management teams and their families.
To help make the process of moving to Panama City easier, we've compiled everything you need to know about corporate relocation to Panama in one handy article. We'll explore everything from choosing a home, the best schools, and how to set up your medical insurance. This quick read will be your foolproof guide for a smooth transition to Panama.

Choosing a Home
You're a busy executive. And the last thing you want to do is add an extra two hours to your day in traffic, cutting into work hours and taking away family time. This is an especially important consideration in Panama City, which isn't known for the speediest commutes. So when it comes to choosing a home in Panama, the first thing you should consider is where you want to live.
There are a number of neighborhoods around the city that are conveniently located and offer safety and amenities. Which of these is the best for you will depend largely on your personal life and the types of amenities that you value most.
Costa del Este is a popular option with foreign corporate workers. This modern and upscale neighborhood has a distinctly Los Angeles feel with palm trees, wide streets, and trendy restaurants. Many large corporations also have their headquarters in Costa del Este, making it a favorite for executives from these companies.
If you're looking to get closer to the action, Punta Pacifica is a neighborhood in the center of Panama City. Packed with residential skyscrapers with oceanfront views, this is one of the most desirable locations for real estate investment. Punta Pacifica is also on the doorstep of one of the nicest shopping malls in Panama, Multiplaza Mall, and plenty of dining and nightlife options. Nearby Avenida Balboa is another centrally located area with stunning views and plenty of highrise apartment buildings to choose from, including many of the best restaurants in the city.
On the other hand, if you're looking for Panama's version of an American suburb with a bit more space, Panama Pacifico might be right for you. A bit of a drive over the Bridge of the Americas, Panama Pacifico is set apart from the rest of the city. What it lacks in proximity, it makes up for in comfort. This neighborhood is filled with green public spaces, residential developments, and quality schools.
If having a house with a yard is on your wishlist then Clayton is for you! Formerly belonging to the Panama Canal Zone, Clayton is known among locals as one of the most family-friendly neighborhoods in Panama. Recognized as home to the US Embassy in Panama, this neighbourhood has a host of new developments popping up, such as Clayton Villages, Embassy Gardens as well as the famous Embassy Club, the most prestigious high end gated community in Panama.
Finding Your Home
Obviously, another very important consideration is whether you want to rent or buy. There are a number of personal factors that you will need to consider but there are also some Panama-specific factors that you should take into consideration when deciding.
If you've never been to Panama before, or know you'll only be staying for a short stint, renting is likely your best bet. Rental apartments are plentiful in the nation's capital and it's fairly easy to find something for any budget. Many apartments will come furnished, but unfurnished apartments are also easy to find. Beware though, as unfurnished apartments in Panama don't always include common appliances like a refrigerator or stove.
In Panama City, rents can vary across the spectrum, and depending on the type of home you are looking for it can often be cheaper to rent than buy. This is especially true in the luxury market where the cost of a mortgage, maintenance, and homeowners' association fees, are usually higher than the monthly rent that you can pay to have the same unit. But those units are not always available for rent and if you plan to pay cash this might be your best option
That said, if you're single or a couple without kids, you might opt for a one or two two-bedroom apartment with a view of the ocean, which can cost you anywhere from $1,200 to $3,000 a month depending on the location, the building, and the amenities that you are looking for. In this case, looking to buy might be a better option, as the cost to acquire and maintain this kind of apartment is usually less than the rent that you would have to pay over the long term.
While renting provides the flexibility of being able to change homes after a year (or less if you sign a flexible lease), many of you will be relocating to Panama for the long term. No matter what you choose to do it is important to connect to a reliable real estate agency, with deep knowledge of corporate relocations, and a strong understanding of the market.
Choosing the Right School
If you're relocating to Panama with a family, another big decision that awaits you is choosing a school for your kids. Regardless of what type of school your children attend in their native country, we highly recommend that you choose a private school in Panama. Public schools are plentiful, however, the quality of public education in Panama is highly variable. Overall, the public school system is underfunded and schools often lack resources, effective teachers, and a solid curriculum.
There are a wealth of private schools to choose from across the nation's capital. Do you want your children to take classes in English? Spanish? Chinese? A combination of the two? Or another language altogether? Do you want a religious school? Want your kids to follow the United States school calendar or the Central American one? All of these are questions whose answers will help you find the best school for your family.
Many opt for an international school which offers bilingual education. Of these, there are many across the city, each with their own specialties. Obviously, location is one way to narrow down the options. Once you know where you'll be living, choosing a school becomes a bit easier. Another consideration is the price. Private school tuition can range anywhere from $100 per month to well over $1,000 per month. For more information on choosing a school and a look at some specific options, check out this article.
Choosing Health Insurance and Providers
Healthcare is one of the things that foreigners in Panama tend to be most satisfied with. Not only are high-quality doctors and state of the art medical facilities available, but healthcare tends to cost a fraction of what one would pay in the United States or many other countries. Despite these lower costs, it's still advisable to have health insurance. Most companies who are relocating employees will provide local health insurance but it is a good idea to check with your employer's Human Resources department to find out what this entails.
If you need to purchase your own health insurance, you can essentially follow the rule of thumb that the higher premium you pay the lower your deductible will be and vice versa. As anywhere, your cost will also depend on your age. For individuals 55-59, you can expect to pay around $2,200 per year in premiums with a $5,000 per year deductible. This premium cost goes up to $3,500 for individuals who are 65.
If you don't speak Spanish, you'll be pleased to find that most doctors speak English. It's typically easy to find a healthcare provider through your insurance company, employer, or by getting recommendations from others who have made the move.
How to Import Your Car & Household Goods
There's a good chance that moving your household goods and car to Panama with you will be less expensive than buying everything new when you get here. Luckily, there are plenty of reputable shipping companies where English is spoken. They can help you with everything from choosing the right container, to navigating the paperwork and fees.
In general, you can expect to pay anywhere from $2.50 – $3.00 per pound for standard container shipping. Most people relocating find that a single 40ft container is enough space to move a four-bedroom home. 20ft containers are also available if you don't have quite so much to bring with you.
Be aware that all containers will be inspected when entering Panama. You are also required to include a detailed inventory with the value of each item in your container. Appliances such as refrigerators or washers will incur a 20% tax if they are new. Also, be aware that you shouldn't pack anything in a shipping container that you wouldn't carry in your suitcase. Weapons, drugs, produce, and raw foods are all off limits.
Entertainment and Activities
Once you've worked out the logistics of moving to and getting settled in Panama, you can turn your attention to getting to know your new home. Explore your neighborhood restaurants. Check out some of the cities museums and historic sites. Take a weekend trip to the beach, mountains, or the countryside. The options for how to spend your time are endless!
Apart from getting to know the scenery and culture of your new home, Panama also offers plenty of opportunities to pursue a favorite hobby or find a new one. Whether it's golf, tennis, polo, or swimming, there are plenty of facilities to practice your favorite athletic pastimes. For culinarily adventurers, Panama has a growing restaurant scene filled with high dining options of every nationality. Just don't miss out on some classic Panamanian dishes as well!
As you can see, Panama is an encouraging environment for corporate relocation making the process easier for those who come over. Once the excitement and uncertainty wear off, you'll be happy to get settled into your new home and become a contributing member of your new community. Keep an eye out for Panama Business Club events where you can meet like-minded individuals, many of whom have also gone through the relocation process.