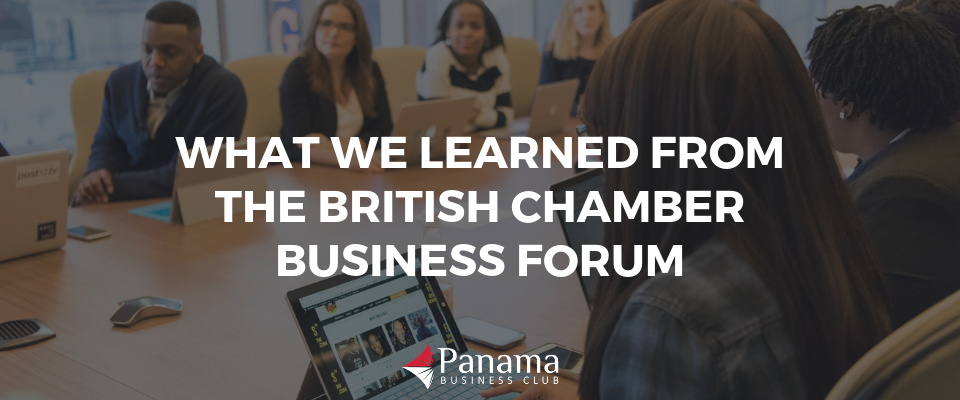 What We Learned from the British Chamber Business Forum
October 29, 2018 / Business
If there's one thing that business professionals know about Panama, it's that the business landscape is always changing. Sure, this is true in most places, but more so in Panama. With a growing economy, room for innovation, and unique taxation policies that incentivize business, things here change quickly. As a result, doing business in Panama is nothing short of dynamic.
In order to keep up with the changes, one always has to be learning. And last week, that's exactly what we did as we had the pleasure of attending the British Chamber's annual Business Forum. Each year, the British Chamber of Commerce organizes a forum to bring together the Panamanian business community.
This year, the forum explored the theme "Panama in Modern Times" through a number of events, panels, and speakers. Some excellent keynote speeches focused on the macro issues facing Panama today and the opportunities and challenges in the upcoming year. Breakout sessions covered everything from cryptocurrency to medical tourism to the local arts scene.
Much to our enjoyment, we got to sit back and take it all in. If you didn't manage to make it to the event yourself, you're in luck. We took lots of notes and bring you some of the key takeaways and themes below.
Cryptocurrencies
One hot topic of conversation was cryptocurrency. Cryptocurrency found its way into a number of speeches and was also the topic of one of the four panels: "Cryptocurrency, Data Protection, and Confidentiality." The panel was moderated by Simon Owen, the Manager Director of Hyperion Risk Solutions, and included panelists from across the fintech and cybersecurity sectors.
Over the past few years, cryptocurrencies and blockchain technology have been gaining traction in the mainstream financial sector. While Panama has a fairly progressive attitude towards banking in some ways, at its core, the sector is fairly traditional. In fact, the panelists were in consensus that up until now, the Panamanian financial system has been overly skeptical of this new technology.
Previously, there had been legislation proposed to create greater regulatory certainty around the cryptocurrency industry. For the time being, though, this legislation has been shelved and will likely remain so until after the elections.
At the end of the day, the message was loud and clear. At some point, Panama will have no choice but to accept cryptocurrencies. As British Ambassador of Panama, Damion A. Potter, so bluntly put it, "If you are a financial institution and don't want to accept crypto because you are skeptical, you will be left behind."
That said, a full adoption of cryptocurrencies won't come without some struggles. And while there is already a diverse group of fintech innovators in Panama who are working through the possibilities for legislation and regulation, the challenge will come in striking the right balance between data privacy and transparency. Additionally, regulating compliance will be especially tricky given Panama's history with banking secrecy and scrutiny from other governments, such as the United States.
While we definitely left the panel with more questions than answers, there is no doubt that fintech is going to be a sector to watch in the years to come.
British Panamanian Relations
As one would expect from the British Chamber of Commerce, there was also a strong emphasis on Panamanian and British relations. The British Ambassador to Panama, Damian Potter, was a keynote speaker and had a lot of positive news to share.
Potter pointed to the improving diplomatic relations between the UK and Panama over recent years. This includes President Varela's recent trip to the UK, which made him the first Panamanian president that had been invited as a guest of the British government.
Varela is now preparing to meet with Queen Elizabeth II later this year to invite her back to Panama. This special visit would mark the 65th anniversary of the Queen's first visit to Panama in November of 1953. Many were surprised to hear that Panama was the first country that the Queen visited outside of the British empire, less than a year after ascending the throne.
Beyond that, Potter highlighted a number of examples of UK companies moving to Panama. These include GSK, Diageo, Rapiscan, JCB, Steer, Aggreko, Biwater, SolarCentury, and more. He was optimistic that this list would continue to grow and that with time our two countries would continue to strengthen trade and business ties.
Government Overspending
Another keynote speaker who left a lasting impression was Daniel J. Mitchell. Mitchel holds a Ph.D. in economics from George Mason University. He is the Chairman of the Center for Freedom and Prosperity, a pro-market public policy organization he founded in 2000. His major research interests include tax reform, international tax competition, the economic burden of government spending, and other fiscal policy issues.
Mitchell spoke at length about the main macroeconomic issue of overspending, which is plaguing most developed countries today. Such rampant overspending has led many of these countries to go after lower tax jurisdictions.
"The world's fiscal problems have nothing to do with Panama, Lichtenstein, and the Cayman Islands… they have all to do with the welfare states and overspending in the OECD countries" he explained.
When it comes to addressing this issue, Mitchell believes that the key solution is to reduce government spending across the board. He pointed to Switzerland and Hong Kong as examples of savvy solutions. While these aren't officially low tax jurisdictions, they naturally have competitive taxation because of government spending caps.
As Panama continues to grow and develop, Mitchell stressed the importance of monitoring and curbing government spending given Panama's unique taxation laws.
Conclusion
All in all, we were thrilled to have attended the British Chamber Business Forum. This interesting event drew people from across the region and exemplified just how diverse the business community in Panama is. It was remarkable to have so many people who are impacting business in Panama in different ways all at one event.
If we had to sum up the overall sentiment of the event, it would be one of cautious optimism. All of the speakers and panelists talked about the bright prospects on Panama's economic horizon. From cryptocurrency to tourism, there are plenty of areas where Panama is primed to grow.
That said, one shouldn't be too optimistic. There are still hurdles to overcome and uncertainty about how certain sectors will develop. For those looking to make their mark on the Panamanian business sector, it's crucial to keep your eyes and ears open. Events such as the British Chamber Business Forum are important opportunities to stay informed and increase awareness about global trends that are having their impact on Panama.
To ensure you're aware of important upcoming events like the British Chamber Business Forum, sign up to our newsletter at the top of the page.